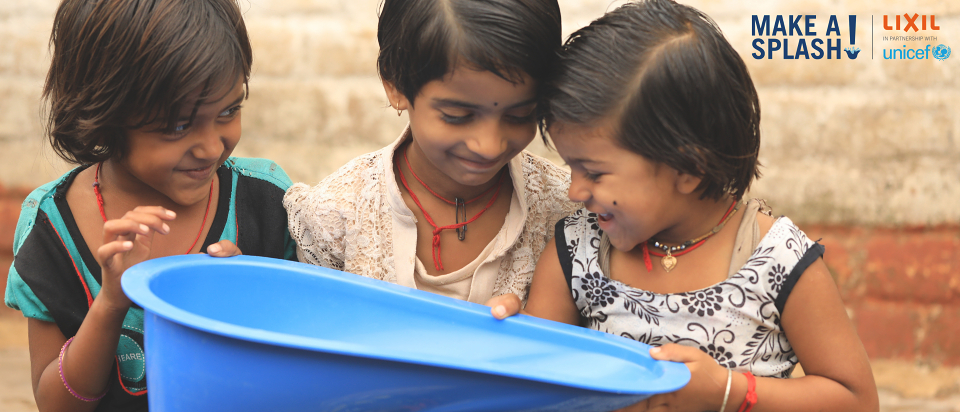 Make a Splash! Together with UNICEF, we give children access to sanitation!
Make a Splash! is a partnership between LIXIL, GROHE and UNICEF.
This cooperation aims to ensure that everyone, and in particular vulnerable children in developing countries, have access to affordable sanitary facilities and improved hygiene. With this project, the three parties want to help millions of children and their families in East Africa to fight the global hygiene crisis together.
This is desperately needed, because in the year 2020 1 in 4 people do not have access to a basic toilet. Every day, 800 children under five die of diarrhoea caused by unhygienic water and poor or no sanitation.
"As many as 3 billion people - 40% of the world's population - do not have easy access to a place to wash their hands. In the world's least developed economies, this is as much as 75% of the population. In addition
900 million children do not have access to soap and water at school, while hand washing with soap and water is one of the most inexpensive and effective ways to prevent the spread of infectious diseases. Something that COVID-19 has only made more important."
With Make a Splash, LIXIL and UNICEF focus on the most vulnerable households in Kenya, Ethiopia and Tanzania. By expanding existing networks, we can jointly help millions of people by providing education on general hygiene, hand hygiene and access to clean & safe toilets. In addition, LIXIL and UNICEF are working together in the area of advocacy to promote hygiene programmes worldwide and bring about behavioural change.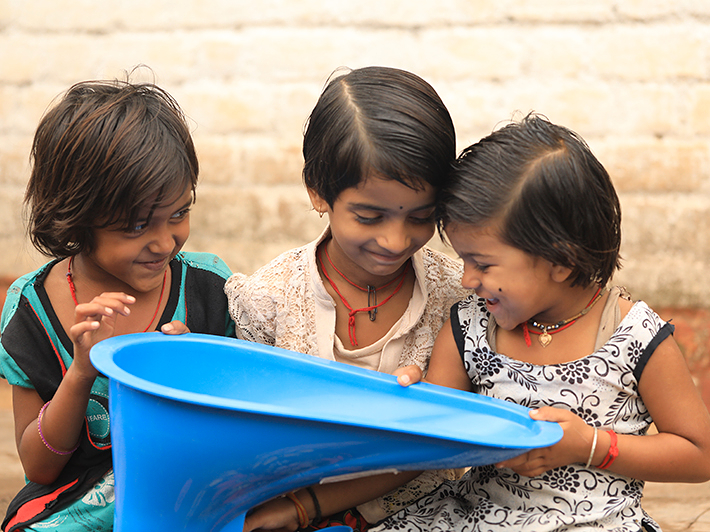 The Sato toilet
In order to give everyone access to hygienic facilities,
LIXIL has developed two products especially for this purpose:
The SATO Toilet is an affordable toilet that gives children, their families and the community access to a safe and clean place to go. For girls and women in particular, a safe toilet is essential, as they regularly experience violence and harassment when going to the toilet in an open field.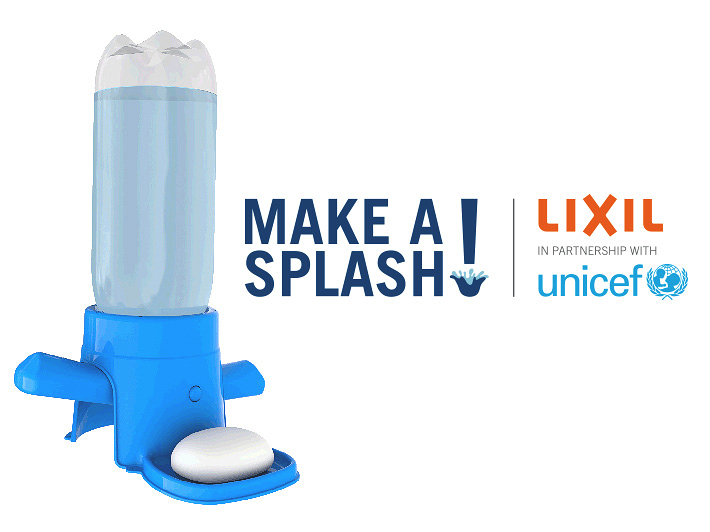 The Sato Tap
The SATO Tap is the latest development launched by LIXIL on 25 June 2020. It is designed so that it can be used anywhere in the house, even without access to running water. It is a plastic holder into which a regular plastic bottle containing water is placed, and thus you have a tap for washing your hands. This tap is operated with the elbow. The lever ensures that water comes out of the nozzle to wash the hands with soap and water. So this is a nice affordable alternative to a water tap, giving everyone access to hand hygiene and reducing the spread of disease.
Support the Make a Splash! action to provide children with better sanitation and hygiene! A safe, clean toilet and water & soap prevents infectious diseases and helps children to stay healthy. A toilet at home or at school means that children do not have to do their needs in a field and are therefore potentially in danger. But it also helps young girls stay in school during puberty to learn and play with friends. Without a safe toilet at school, young girls often drop out of school.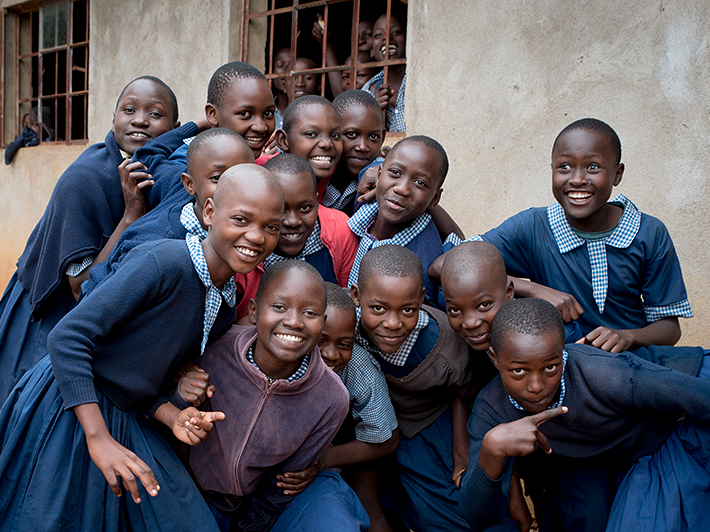 GROHE participates!
To support these children in particular, GROHE supports with the Make a Splash! campaign between 1 May and 30 June 2021.
This campaign involves donating 1€ to Make a Splash! for every GROHE Showersystem and/or thermostat that is sold. With this campaign, GROHE on the one hand wants to make everyone aware that not everyone has access to sanitary facilities and hygiene facilities, but on the other hand also wants to offer an opportunity to make a contribution yourself in an accessible way. It is good to give some thought to children in developing countries who are less privileged. With this campaign, and together with your help, GROHE contributes to the solution of better hygiene and sanitary facilities for children.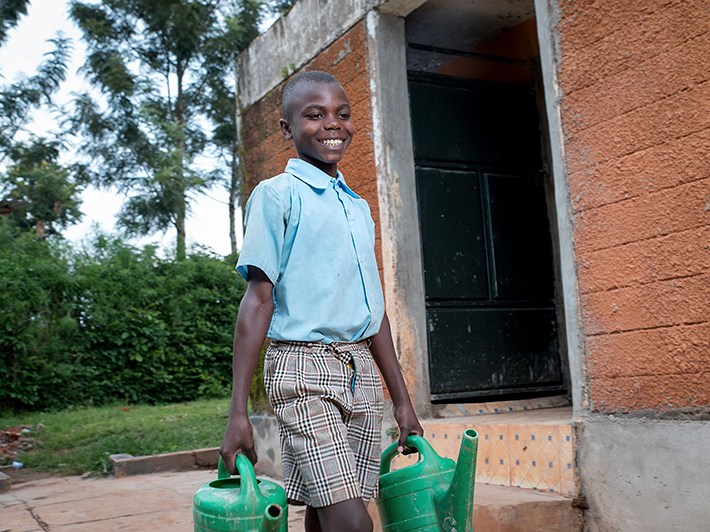 Why do we need your help?
€50,- helps 17 children to learn healthy toilet habits in Ethiopia.
For €80,- 3 female students have access to a toilet that is maintained, so they can continue going to school during their adolescence.
With €140,- we can help 5 families of 5 people to learn healthy toilet habits in Tanzania.
With €2,856,- we can buy toilets and provide clean water to a school of 110 students in Africa.
Do you want to donate money?
Of course, there is also the possibility to donate money yourself. Donate via the donate button and support the Make a Splash! Foundation a warm heart.
Donate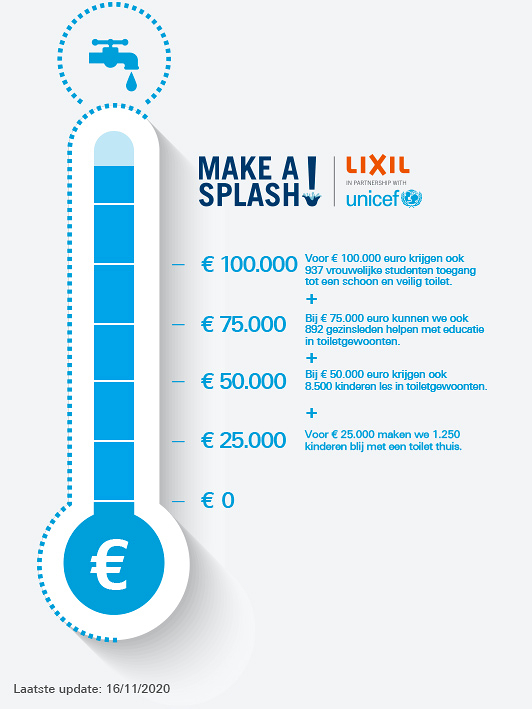 Donation Barometer Make a Splash!
GROHE and UNICEF like to be fully transparent about the actions we take for Make a Splash! For this reason, UNICEF keeps track of how much money GROHE has already donated to Make a Splash via the barometer below!
Besides keeping track of how much money GROHE has already donated and how many voluntary donations have already been made, this barometer also gives an indication of what UNICEF can do with the money. One does not preclude the other. The more money we raise, the more we can do for these vulnerable children.
With €25,000, for example, we can make 1,250 children happy with a toilet at home. But with another €25,000, so €50,000 in total, we can also teach 8,500 children toilet habits in addition to the 1,250 children who already have a toilet.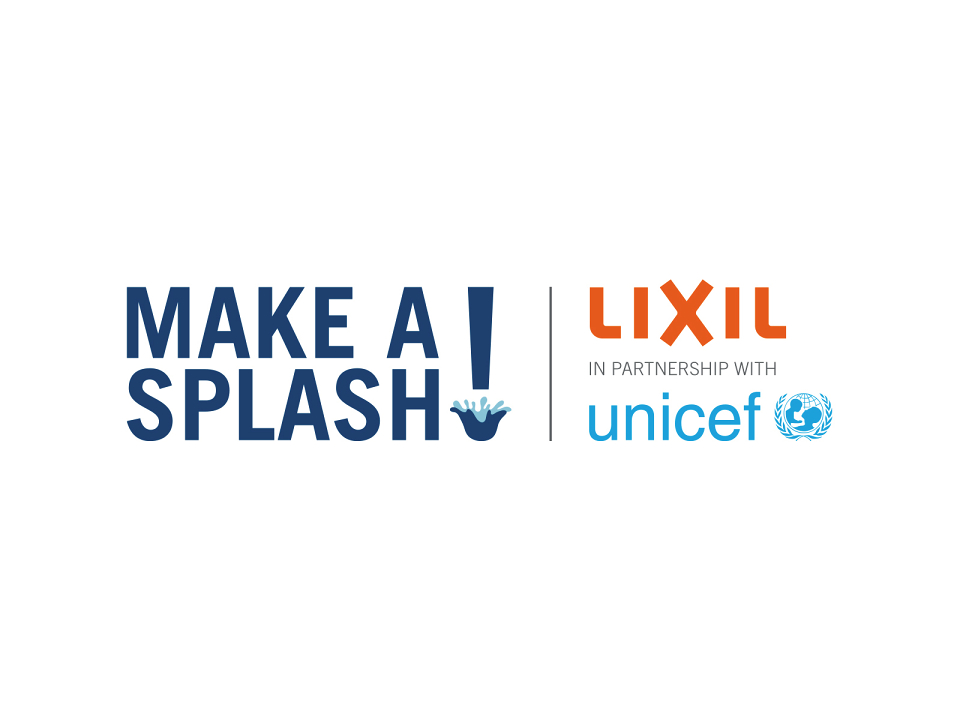 What will UNICEF do with this enormous contribution?
Suzanne Laszlo, Director UNICEF:
We are very happy with the contribution of GROHE. That is really huge. It makes a world of difference for children. With this enormous contribution, we can reach many vulnerable children and families in East Africa. And what do we do with it? We provide toilets. We make sure there is water. We are educating people about hygiene, and that is extremely important. Because with that education and all those materials, we can make sure that all infectious diseases stay out of these families and children can grow up healthy.
Purpose of the United Nations
This initiative contributes to the United Nations' goal of targeted global action to provide every person with access to a proper toilet by 2030. And thereby drastically reduce the number of children who die as a result of poor and/or non-existent sanitation. It is also a crucial part of UNICEF's strategy to provide access to basic sanitation for 60 million people through its programmes by 2021. This number will be increased to 250 million people thanks to our partnership with LIXIL and GROHE.
Want to know more?
Click on the button to go to the LIXIL website for more detailed information on Make a Splash!
More details
UNICEF does not recommend any company, brand, product or service.